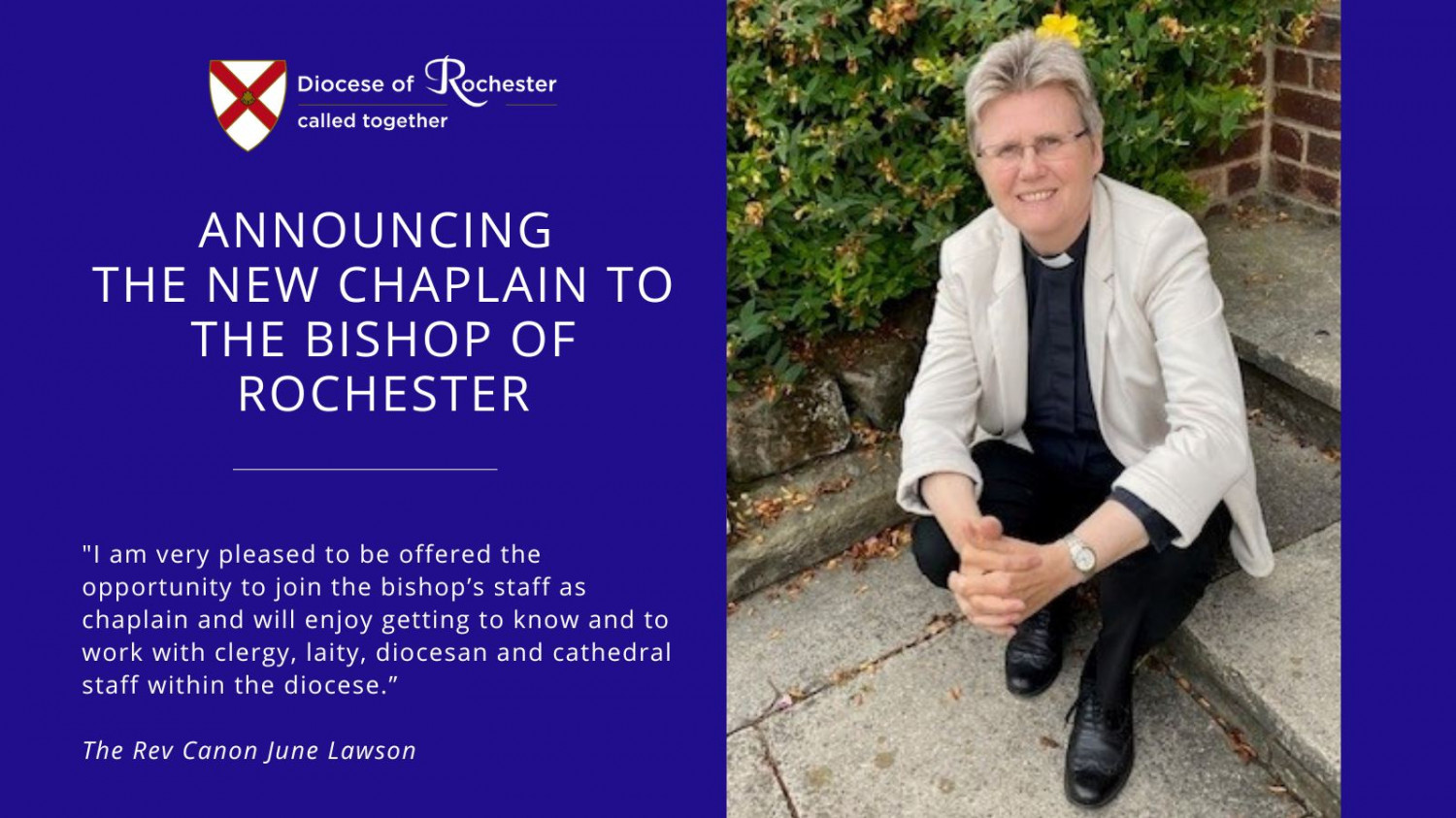 The Revd Canon June Lawson, who is presently serving as Vicar of St Giles with St Mary's and All Saints, Pontefract, has been appointed Chaplain to the Bishop of Rochester, the Rt Revd Jonathan Gibbs.
June will support Bishop Jonathan in his ministry in the Diocese of Rochester as part of the staff team based at Bishopscourt, the working office and home of the Bishop.
June says:
"I am very pleased to be offered the opportunity to join the Bshop's staff as chaplain and will enjoy getting to know and to work with clergy, laity, diocesan and cathedral staff within the Diocese.

Leaving my parishes, ministry colleagues and the community of Pontefract feels very hard, but I have felt God's calling to this new role with all the privilege it entails in assisting the bishop in his ministry amongst you.

I will enjoy learning more of the vision for ministry and mission in Rochester Diocese, as it builds on work started before the pandemic and goes forward afresh under Bishop Jonathan's episcopal leadership."
Welcoming the appointment, Bishop Jonathan says:
"I am delighted that Canon June Lawson will be joining us at Bishopscourt as my Chaplain. She will bring a wealth of pastoral experience to this important role, along with strong administrative skills and experience of working as part of a Bishop's staff team.

Toni and I look forward very much to welcoming her and her husband John to Rochester later this summer."
More about June
Originally from Lancashire, June trained and worked as a lecturer and teacher in English and History until her ordination as deacon in 2002. Before ordination training, she served as a licensed Reader in Wellington, Shropshire and then Dewsbury and Huddersfield, working alongside her husband as vicar in a variety of parishes.
June's curacy was served at Holy Trinity, Huddersfield. In 2005, she began work as Director of the Mirfield Centre for the wonderful monastic community based at Mirfield, the role additionally meant that she worked closely with the diocesan lay training team based there.
For 14 years, June additionally served on the Bishop of Wakefield's staff team as Dean of Women's Ministry and continued that role as a Wakefield Episcopal Area Women's Ministry Advisor in the new diocese of Leeds created in 2014. June also served as a priest vicar at Wakefield Cathedral during this time until 2019.
In 2017, she became Clergy Development Officer in the Wakefield Episcopal Area as well as Area Dean of Wakefield. June has been involved with candidates as part of local and national selection for ordained ministry, has trained two curates and enjoyed working with schools in governance roles. Her present role is as vicar of the parishes which make up the Benefice of Pontefract- a town with a rich and proud history.
June is married to Revd Canon Dr John Lawson, currently Principal of the Mirfield Hub of the Leeds Diocese School of Ministry based at Mirfield and warden of lay Pastoral Ministers. They have family based in Kent and outer London and look forward to more regular contact with their two young grandchildren.
It will be a wrench to leave Yorkshire after over 30 years in both Wakefield and Leeds dioceses, but they are looking forward to getting to know the diversity of areas covered by Rochester Diocese.